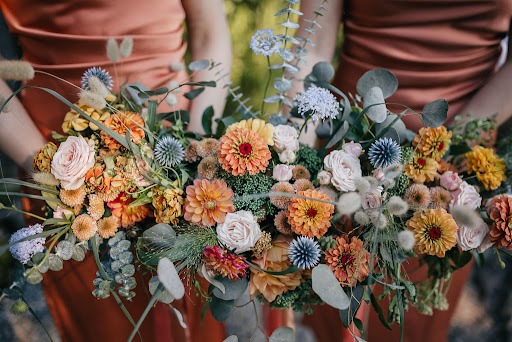 How to plan your wedding flowers
Planning your wedding can be overwhelming. Even when it comes to your flowers, there are so many choices to make! But here at Twiggage & Bloom, we make planning wedding flowers easy, working with your mood board and vision. Here are some things to consider when you're wondering where to begin.
Where to start when planning your wedding flowers
Wedding flowers are typically divided into a couple of categories: personal flowers, ceremony flowers, and reception flowers.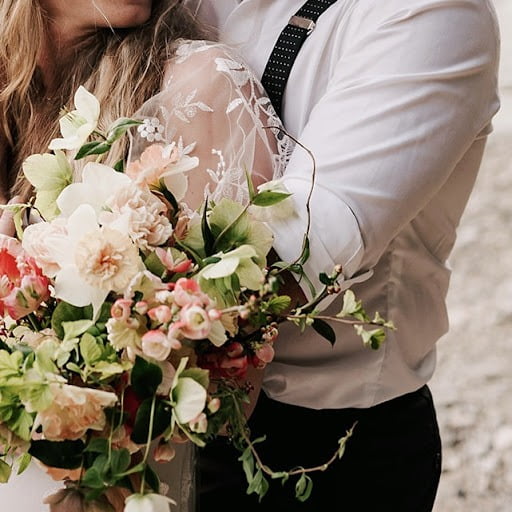 Planning your personal flowers
Personal flowers are the flowers carried or worn by the bridal party. There are no precise rules to follow, but for the sake of tradition you may want to have a bridal bouquet, bridesmaids bouquets, plus corsages and boutonnieres. These are all designed to complement one another, and identify members of the bridal party and VIP guests. For some extra flair, you might also include floral crowns, floral hair pieces, floral jewelry, and pet collars.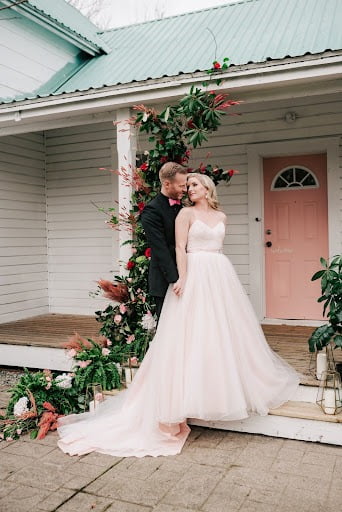 How to plan your wedding ceremony flowers
When it comes to designing and decorating the ceremony space, tradition goes out the window and you have an abundance of options available. We understand that not everybody has an unlimited budget, and therefore recommend starting with the basics. For a nice punch of colour, consider having a few highlights of flowers around the ceremony space. This might look like a couple of swags on an arbour, arch, or mantle, or a couple of extra large arrangements in urns flanking the ceremony site.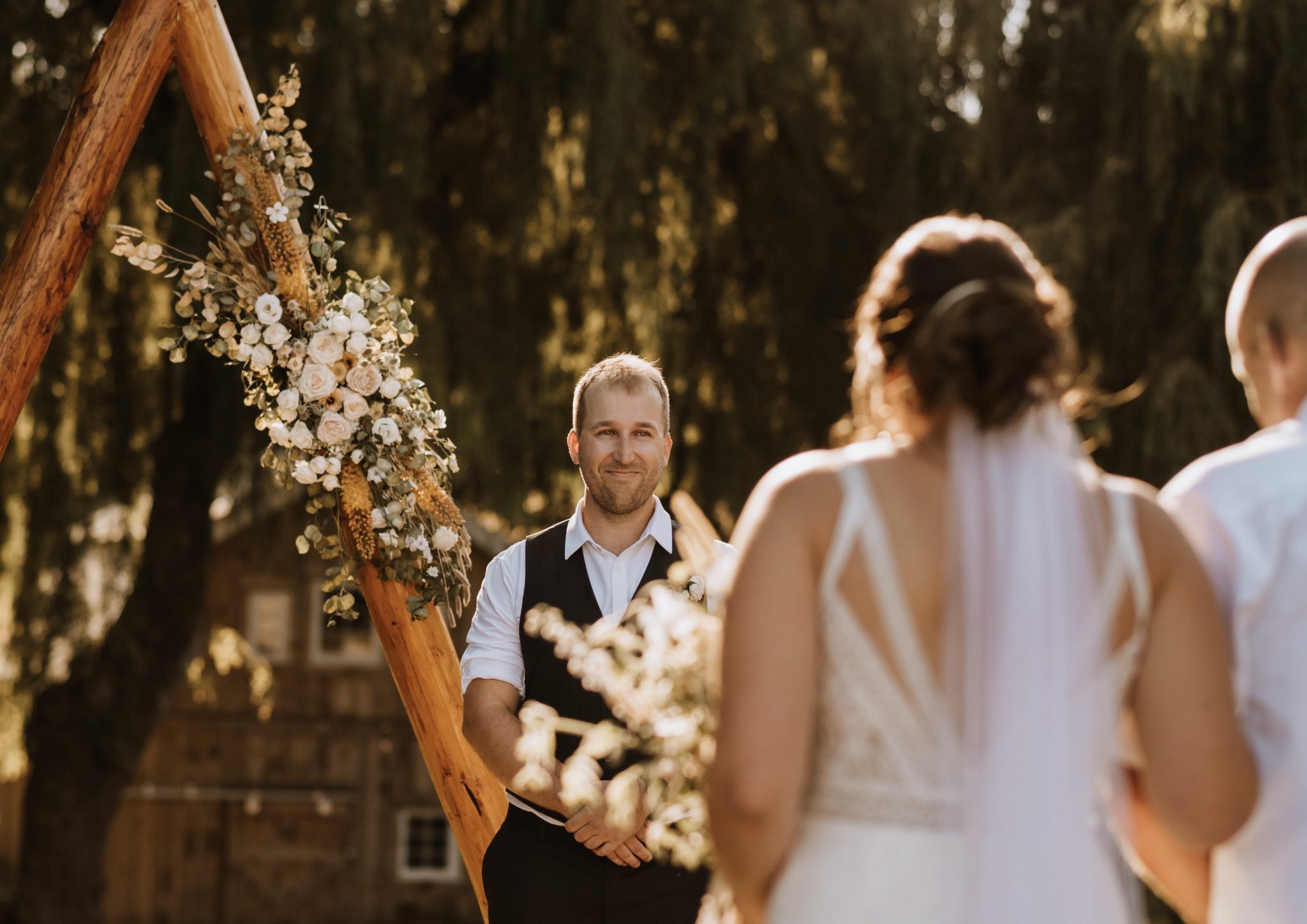 A key couple of things to keep in mind is what your guests will see while they're witnessing your ceremony, and what your photographer will capture within the confines of a photo frame. This means placing those bodacious blooms waist high. Swags look great placed asymmetrically on the corner and top of the arbour, and urns look stunning placed symmetrically on steps or pedestals. The basic option of this is available in the A la Carte menu, and a more curated, installed version is available in the Full Service menu. Learn more about our wedding floral packages here.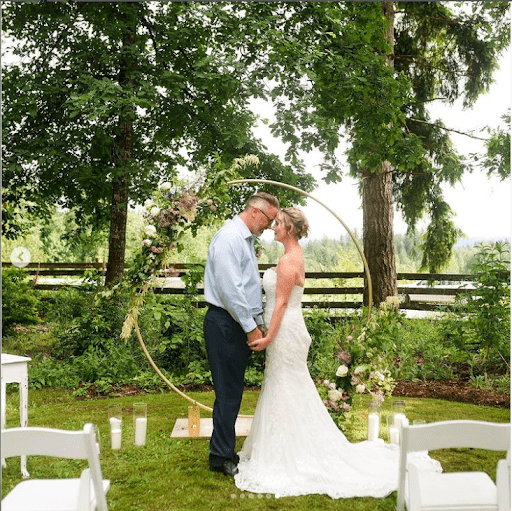 Unique wedding style ideas for your ceremony space
Don't want an arbour? No worries, we specialize in creating Ceremony Nests: waist high semi circle of blooms framing your ceremony. Honestly, it looks like you're getting married in the middle of your own private garden!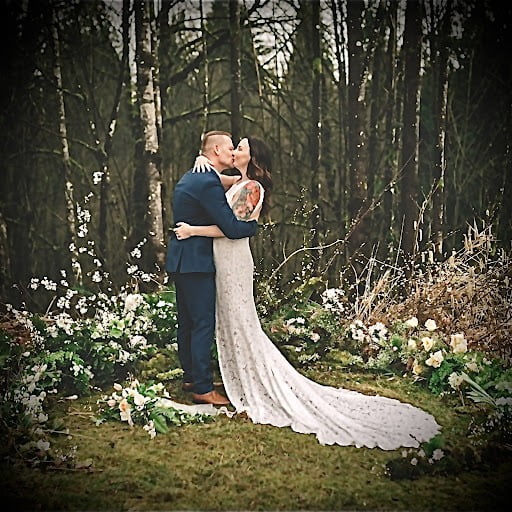 Also new on the wedding scene are Floral Mandalas. These are spectacular geometric tapestries of petals and blooms arranged on the ground (indoors or outdoors) only to exist through the duration of the ceremony. They're intricacy and fleetingness add to their sacredness, valued by couples who want something unique and rare. These enchanting options are only available in the Full Service menu, due to their complex, curated nature.
If your budget allows it, then it's time to look at aisle markers (small swags on the aisle chairs), or more elaborate aisle meadow arrangements (pair well with the ceremony nest).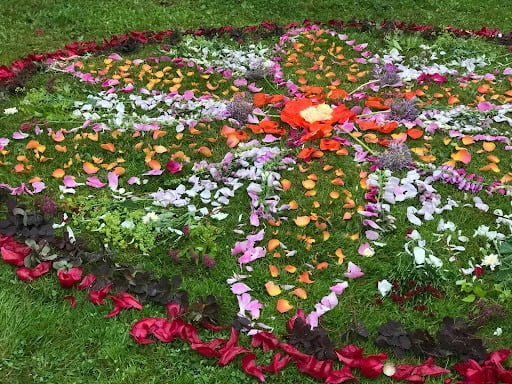 Planning your wedding reception flowers
Next up are the reception flowers and you have a full range of price options. If your ceremony and reception are the same venue, perhaps consider repurposing some of the arrangements from the earlier part of the day. This does require 'many hands on deck' and always more time than you think. Certainly something to consider with our Full Service Package.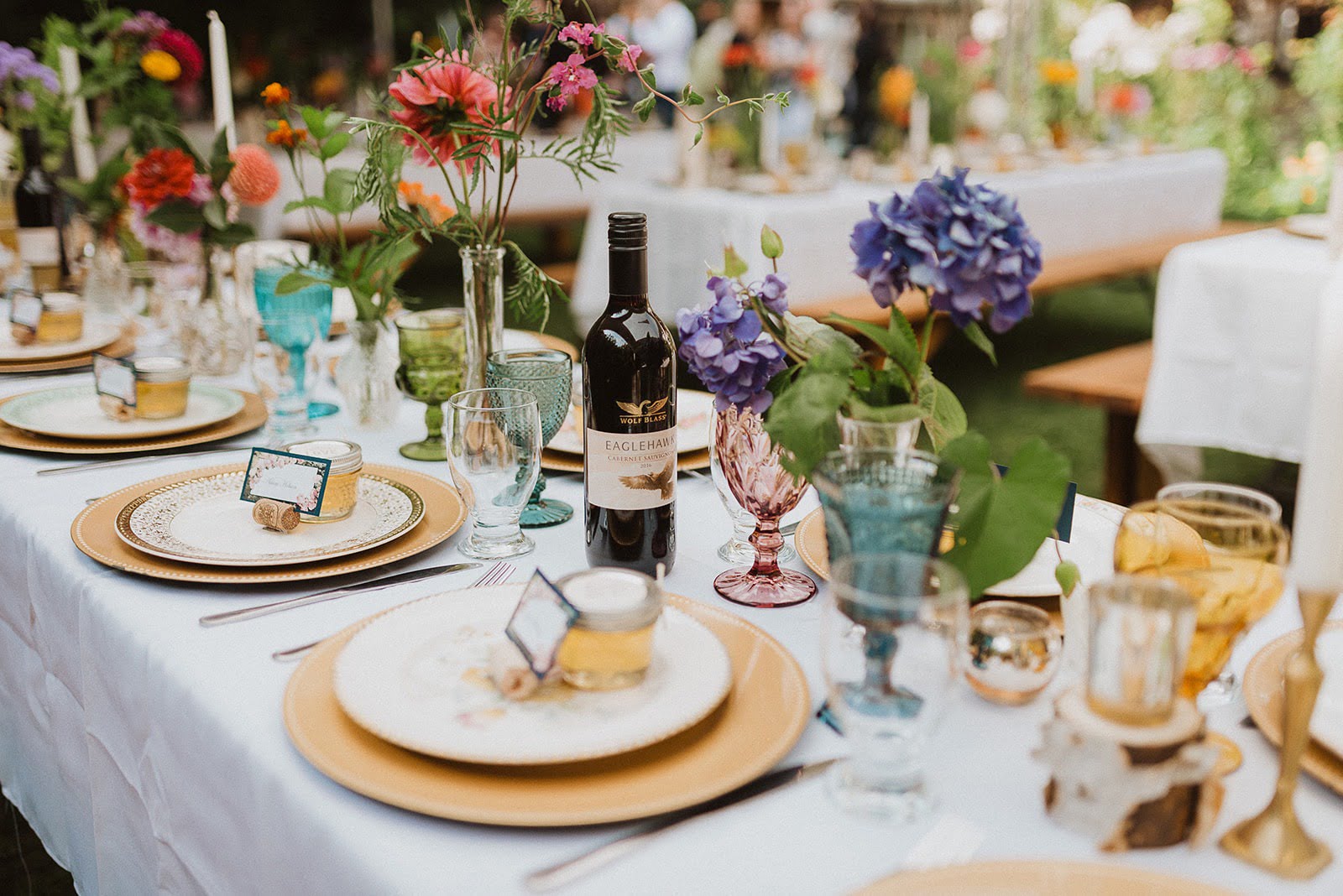 To get the most impact from your wedding flowers it's wise to to work with the natural beauty of your surroundings. Typically, your head table will be the focus for speeches and photographs; so consider adding garlands or an arresting Medium or Large Centrepiece. By all means add your bridal party bouquets to the table. Having one centrepiece at each guest table is a nice touch and they can be sent home as 'thank you' tokens. We recommend a Low Centrepiece for a 5' table or smaller, and a Medium Centrepiece for a 6' table or larger.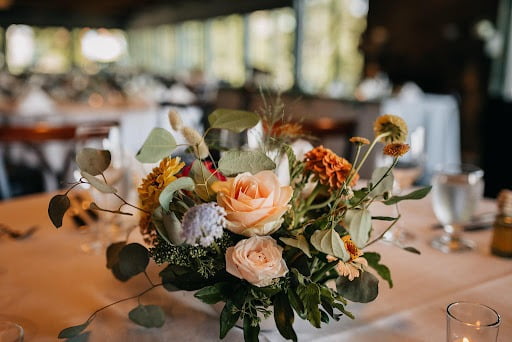 You may want to also consider slightly larger, enchanting arrangements (Large, or XL) for the entrance, bar, guest book and escort table. Other areas to consider adding flowers are the buffet or dessert table, your wedding cake, cocktail table, and washrooms (Petite Posy, Grouping of 3 Bud Vases, Cake Blooms).
Basically any surface you want to embellish with your floral theme can get the Twiggage & Bloom treatment: think mantles, floral chandeliers, and staircases!
Enquire with us today to get the discussion started on your dream wedding flowers!