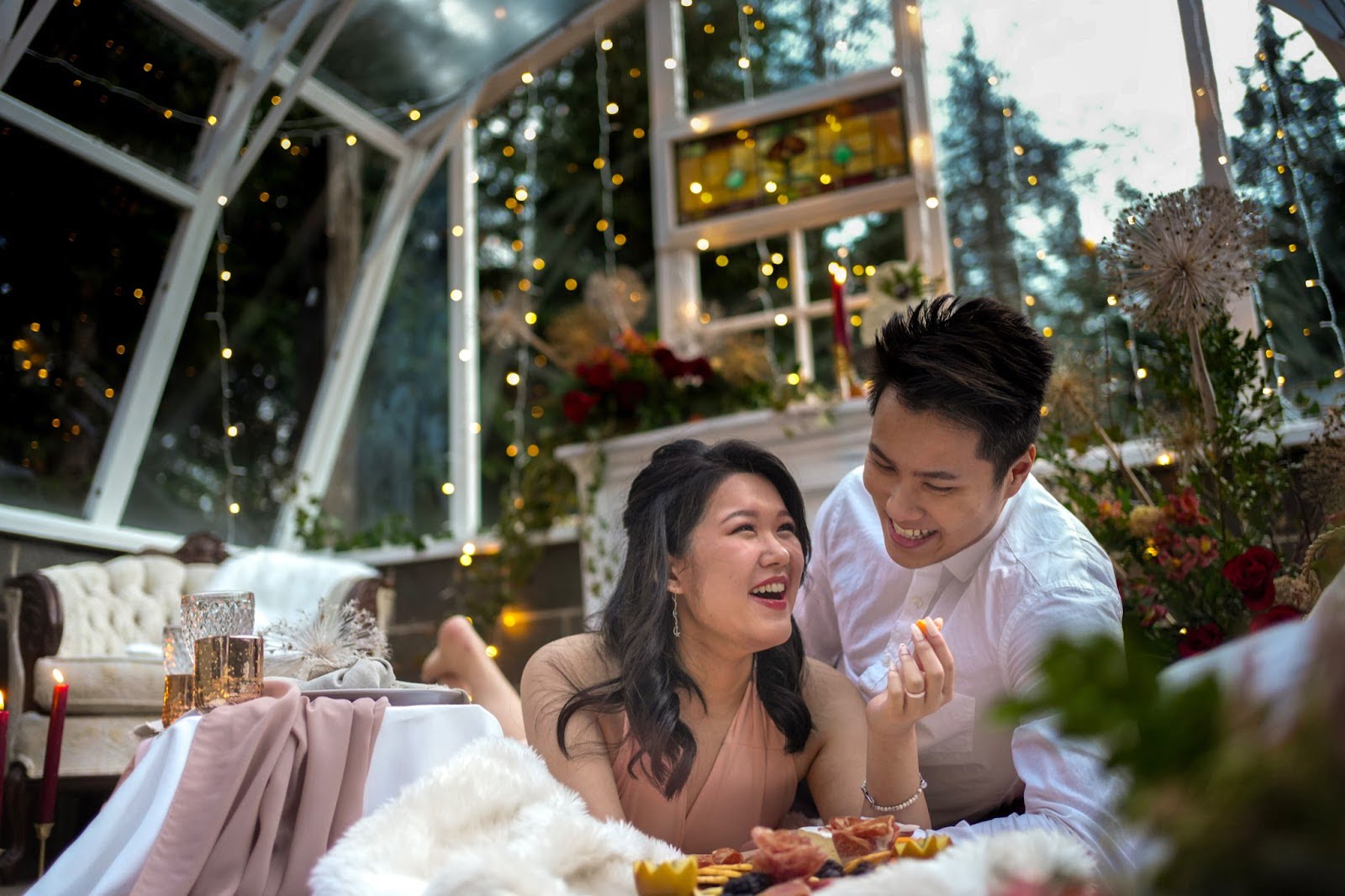 The Perfect Wedding Proposal
This inspiring wedding proposal photo shoot is sure to give you ideas for what's possible when planning your proposal (or even a very small wedding) in the Fraser Valley.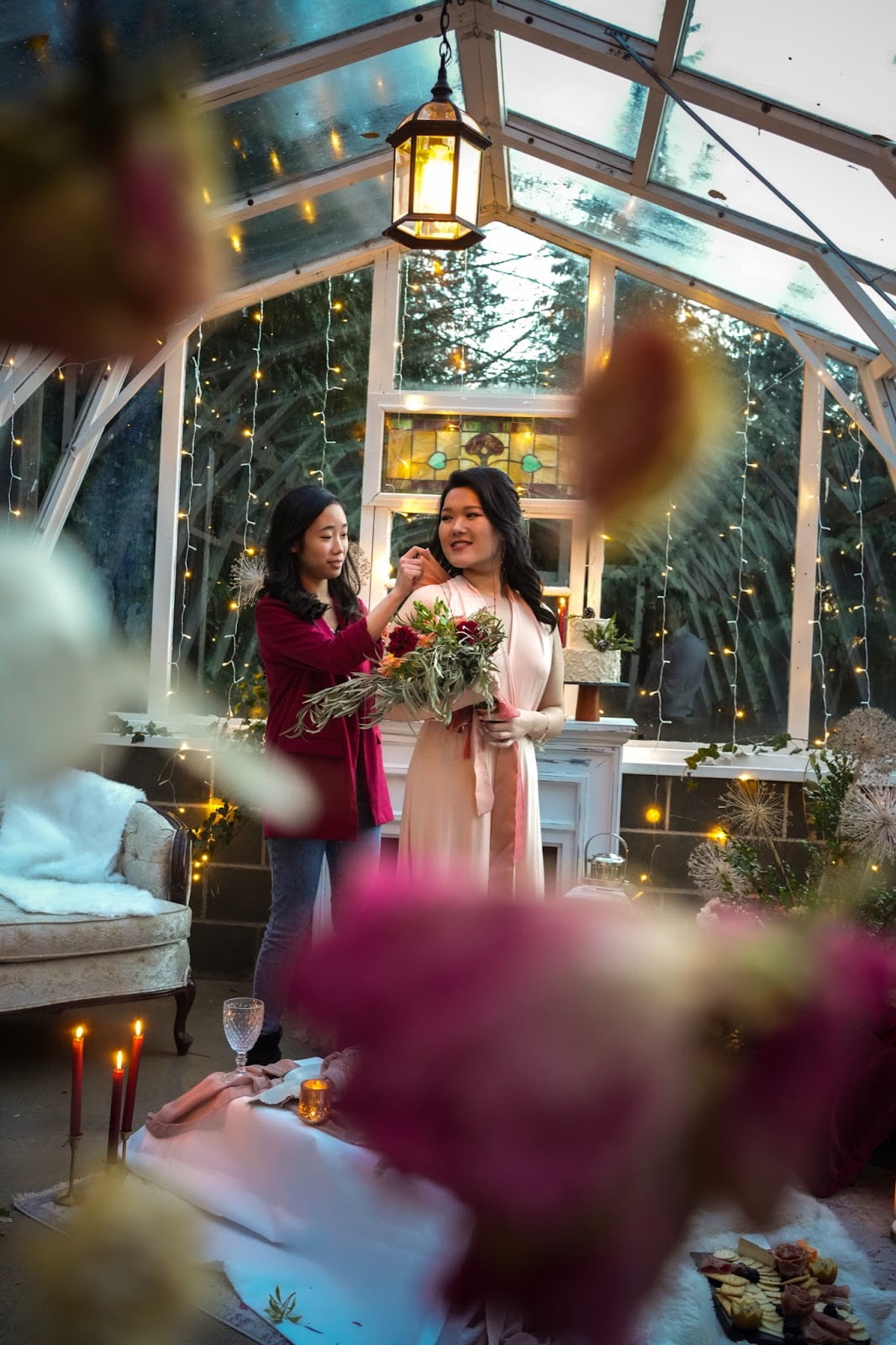 A romantic proposal venue
This January photo shoot took place the most enchanting little spot in Abbotsford: The Greenhouse Venue. Nestled at the edge of the forest, near a babbling brook, along a meandering path, you are captivated. It is the perfect location for a small gathering  (maximum sixteen in greenhouse or twenty-four in the pavilion) such as a wedding, elopement, milestone birthday, or anniversary celebration.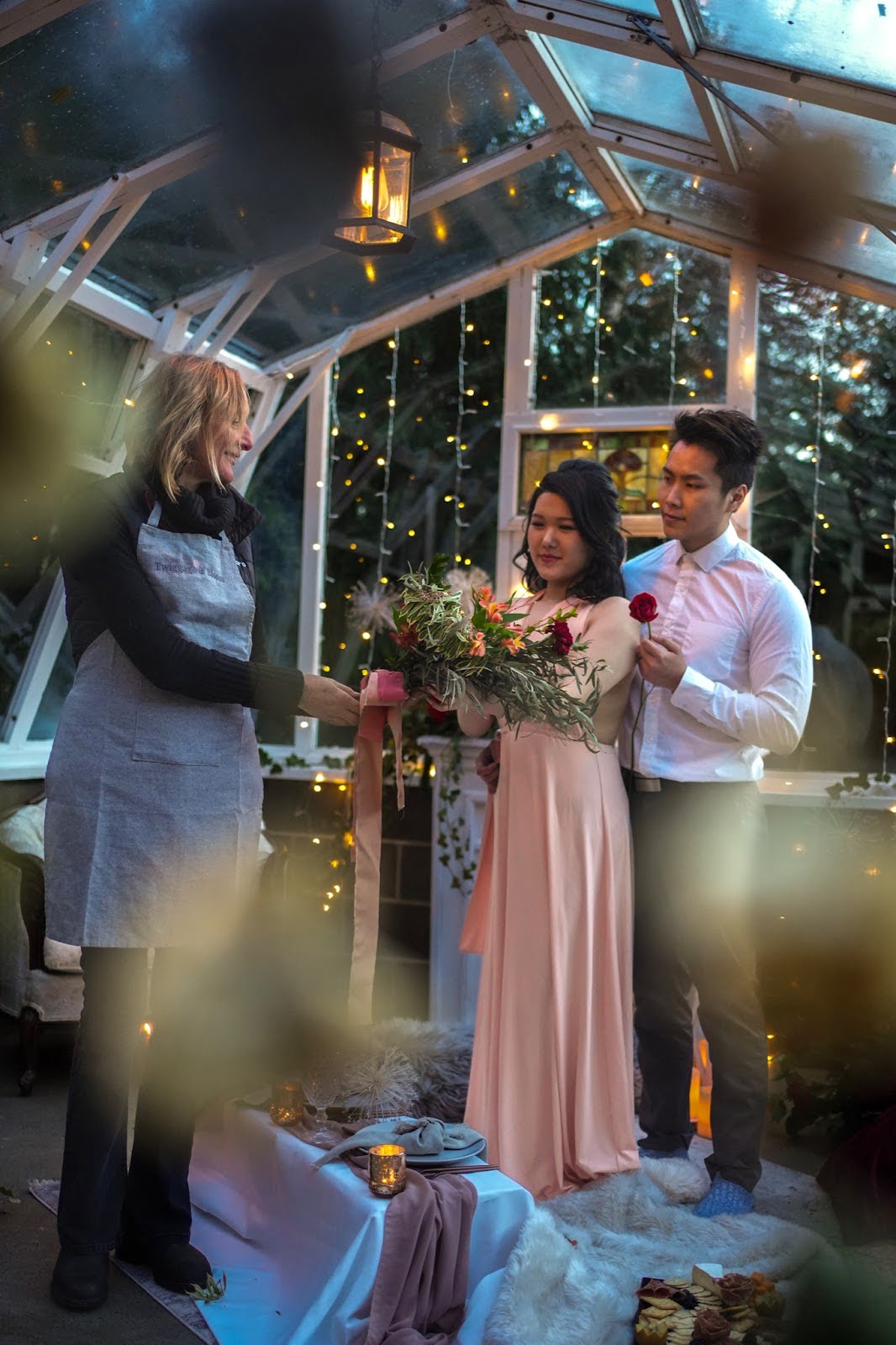 Romantic & Unique
This may be dating myself, but I imagine the two most romantic scenes in 'The Sound of Music', in the family gazebo. Darkness is falling, lovebirds are sneaking away…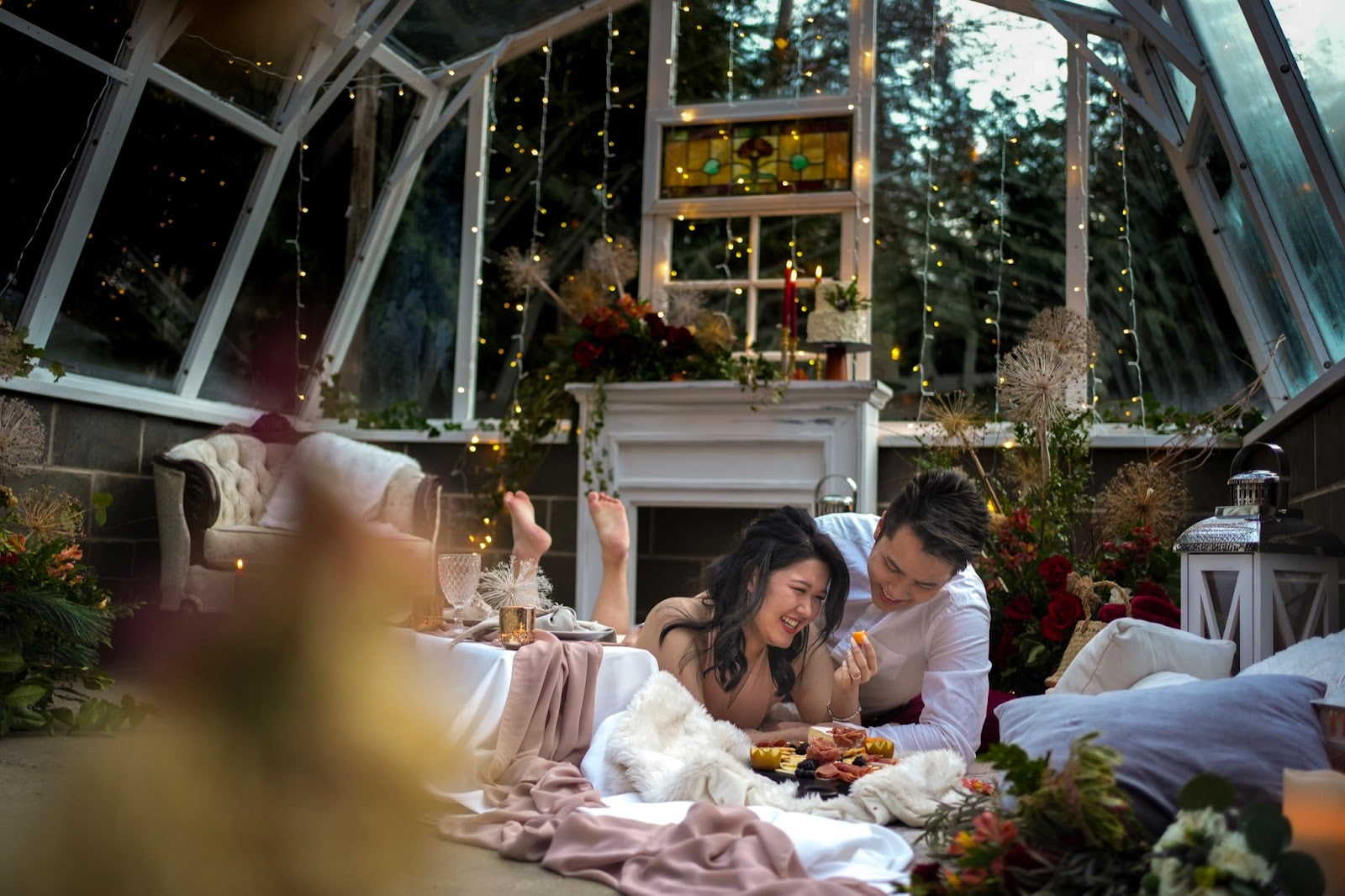 The romance is all in the details…
In this shoot, this (real life) couple are champions at the long distance relationship thing,  living in 2 different provinces. Their 'secret' get-away had all the vibes with a private picnic in the woodstove-warmed greenhouse (thanks to Katie & John, our hosts). Our lovebirds both pitched in with the prep work; the yummy grazing board was artfully arranged by Lucy, and Tony was a saint at untangling the twinkle lights and the epic flower curtain.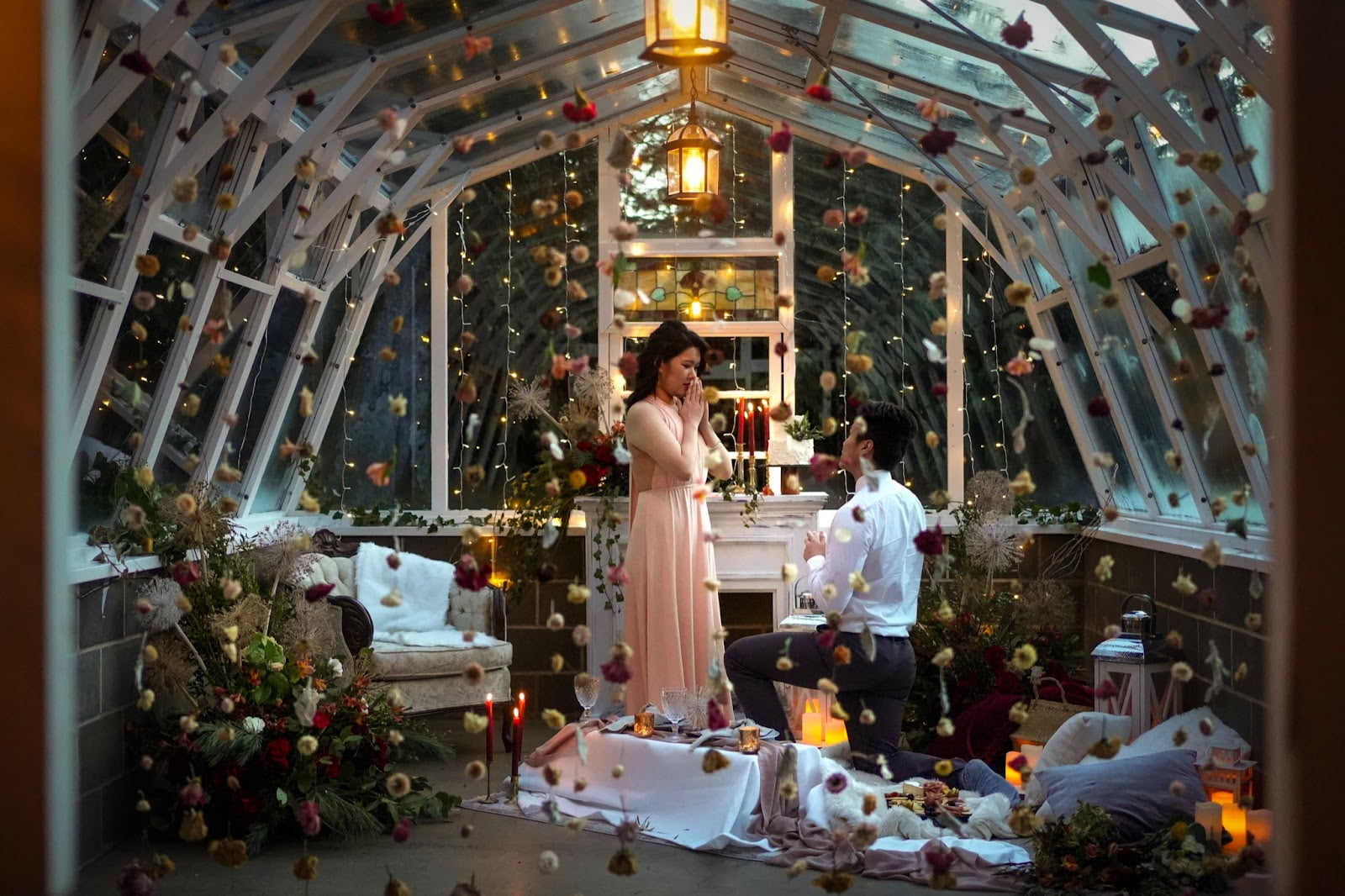 She said yes!
Then it was all about them, lounging in the soft picnic furnishings supplied by Bespoke Decor, snacking on delectables and the promise of a cake made by Sugarnotes Pastry. Then Tony popped the question and Lucy said "Yes!". He placed the ring on her finger (with nails freshly done by Alison). They danced under the sparkling lights, nightfall surrounding the cozy greenhouse.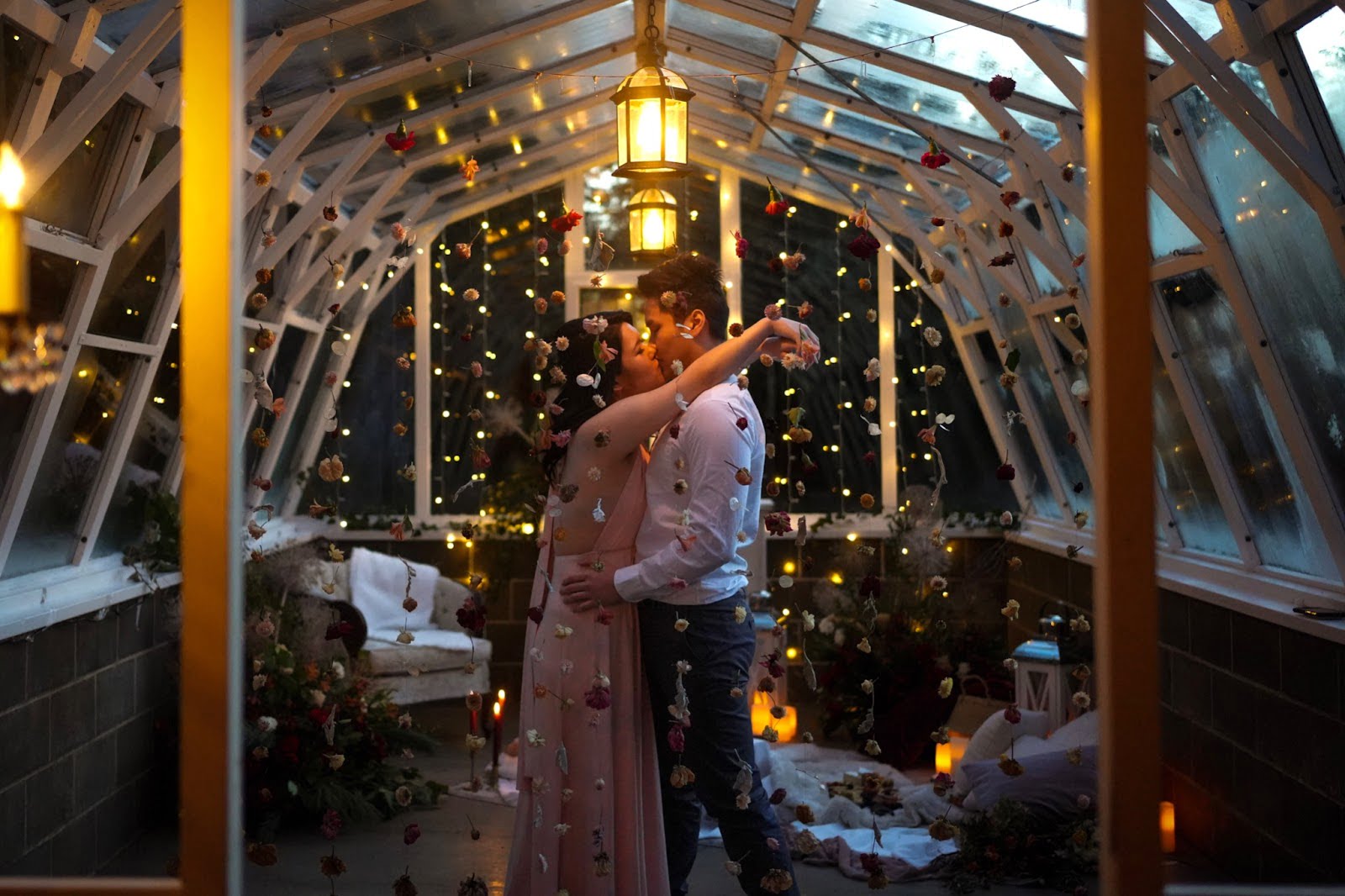 Perfect Proposal Packaged
Orchestrated by Sydney, this proposal had all the details, coinciding with the early winter twilight. To complement this intimate indoor picnic, we embellished with custom arrangements featuring gigantic dried alliums (Allium cristophii) draping the mantle, encircling the picnic, and a mesmerizing flower curtain! It was all captured by Jarell, who has an eye for framing those moments (while humming a Disney tune) – enchanting and romantic!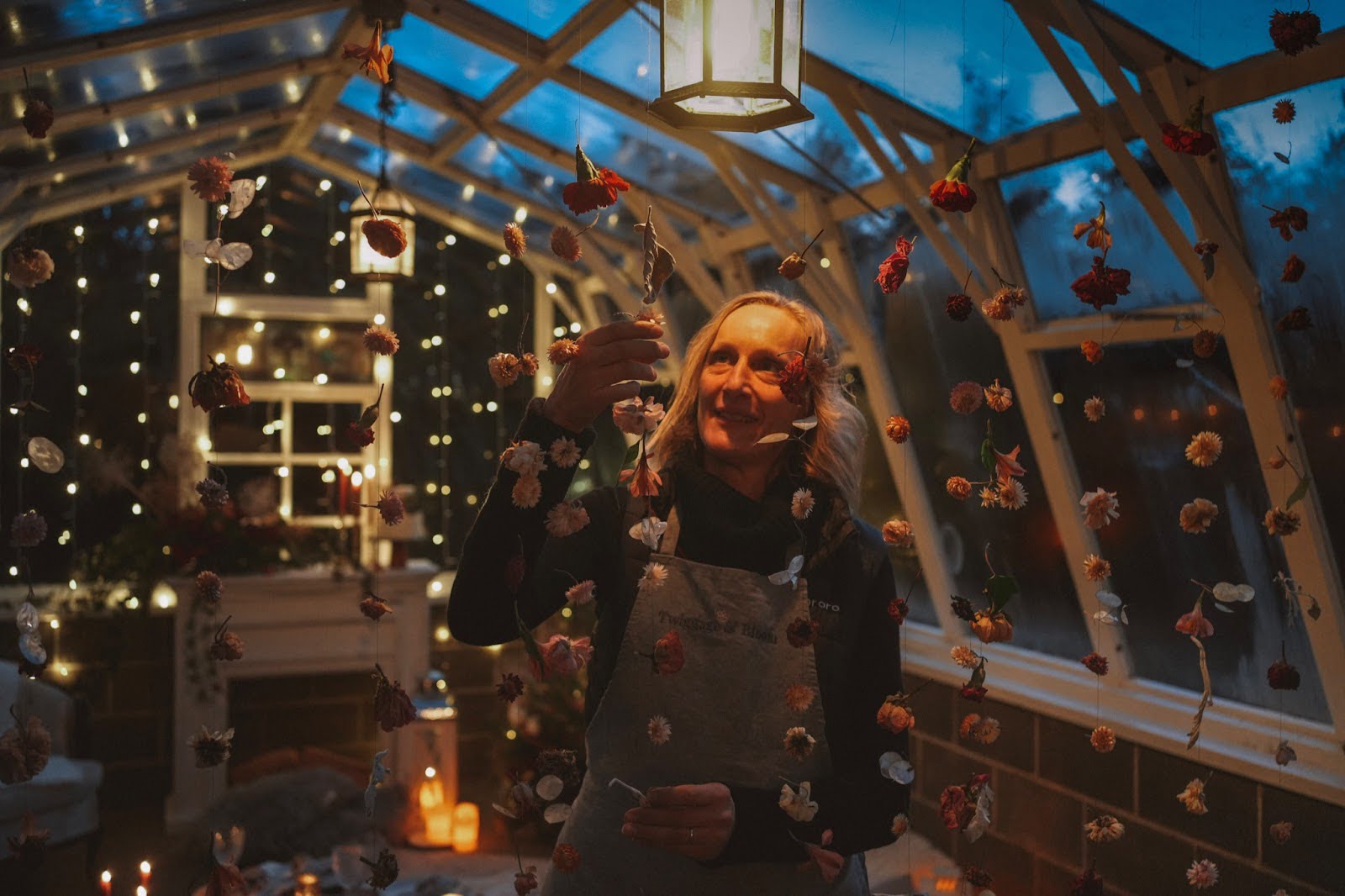 The Wedding & Event Vendors (Fraser Valley)
Venue: The Greenhouse Venue @thegreenhouse_venue
Planner: Sydney @eventsbysydneys / @sugarnotespastry
Photographer: Jarell @jarell.jpeg
Decor: Bespoke Decor @bespokedecor
Florist: Twiggage & Bloom @twiggageandbloom
White Bouquet: Manites Flower Shop @happyashley00
Models: Lucy & Tony @lucy.zhl @totonyfv
Hair: Alison @theloveteam_alison
Nails: Lavender Love Artistry @lavenderloveartistry
Grazing Boards: Lucy @lucy.zhl
Desserts: Sugarnotes Pastry @sugarnotespastry