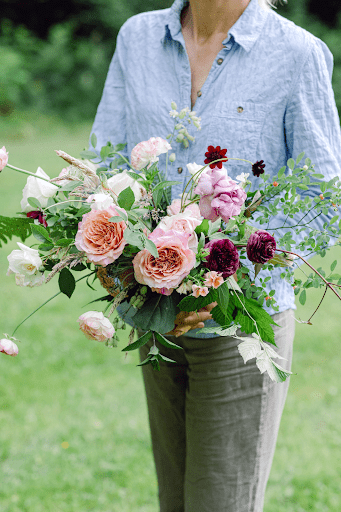 How to hold your Bridal Bouquet
You've picked up your gorgeous, custom designed bridal bouquet from Twiggage & Bloom, you're almost ready to walk down that aisle and you want everything to be perfect. So how do you help make sure that your beautiful bouquet looks its very best all day long?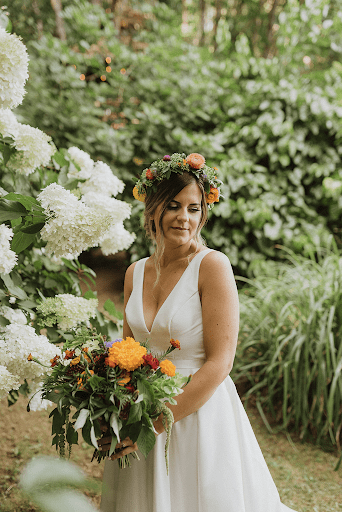 Simple tips to care for your bridal bouquet 
Care:

The bouquet will be transported in a vase with water, with the ribbon tied, ready to go. Use the supplied cloth to dab any drips.

Front Forward:

the bouquet has been designed to have an abundant front (ribbon tails) and a sleek back side (pearl-tipped pins). You can always readjust without looking, by feeling the pearl-tipped pins with your thumbs.

Breathe:

take an aromatherapy moment and inhale deeply the fragrance of the blooms. Those deep yoga breaths can get you through the jittery moments, and stopping to smell the flowers helps you remain present to your special day!




photo by @meganashleycreative

Hold:

simply grasp the bouquet with both hands just below your belly button, elbows at a relaxed 45° angle, and wrists resting on your hips. This position will accentuate your dress and give you an elegant posture, perfect for those photo moments.

Hydrate:

you and the blooms! When you're not holding a bouquet, give these fresh flowers a drink using the vase provided; place it at the escort table or head table and

drink some water!

After:

having a bridal bouquet is a lovely tradition… and at the end of the day… toss it over your shoulder or make a dried keepsake by hanging it upside down in a dark, dry place for a couple of weeks.