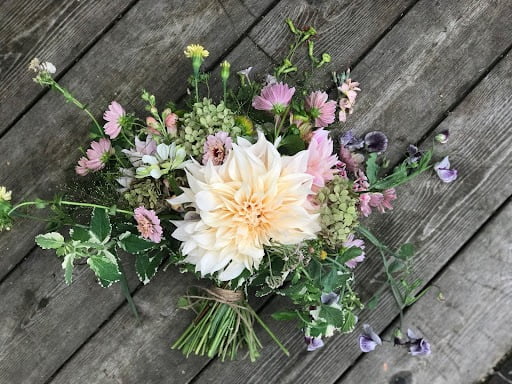 How to Make a Standard Bouquet: our Foolproof Recipe
There's an abundance of blooms to choose from the cutting garden at this time of year. Here at Twiggage & Bloom we've created a fool-proof recipe for a standard 15 stem bouquet. The secret is all about texture; you choose the colours (monochrome, contrasting, etc.) for a winning bouquet every time.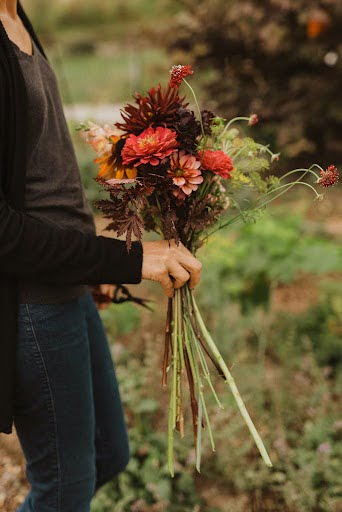 Important tips for long lasting bouquet
For best results:
harvest in morning or evening

use sharp, clean snips

let the flowers have a deep, cold drink in the dark 

Recipe for a balanced and beautiful bouquet
For a 15 stem bouquet, you'll need:
SUPPLIES:
1 mason jar or vase
INGREDIENTS:
1 stem big, bossy bloom:
~dahlia, sunflower, mum, or Black-eyed Susan
2 stems twinkly blooms:
~snapdragons, grasses, phlox, or celosia
3 stems twiggage (foliage):
~herbs, or shrubs
4 stems sparkly blooms:
~amaranth, aster, dill, sedum, or hydrangea
5 stems sunny-faced, 
medium sized blooms:
~small dahlia, marigold, rudbeckia, or zinnia
How to assemble your bouquet:
*Top Tip: blooms should be 1.5 – 2x the height of vase
remove all lower leaves

cut stems at 45° angle

arrange 3 twiggage, crossed for structure

fill in 5 sun-faced stems for body

add 1 bossy bloom for impact

add 4 sparkly stems for filler

garnish with 2 twinkly blooms

place out of direct sunlight & drafts

refresh water and re-trim every 2 days
For a home made flower food recipe, read our post here.