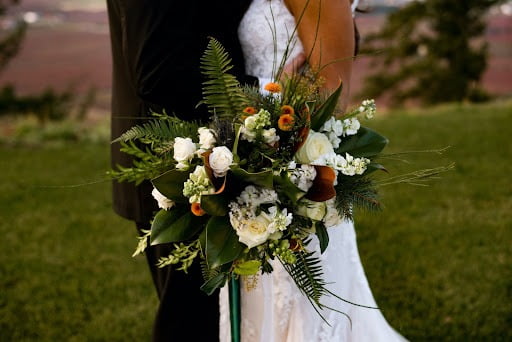 Flowers for Winter Weddings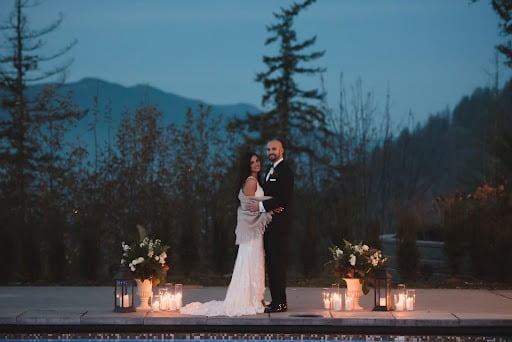 Winter weddings have their own allure and charm. They don't necessarily need to feel Christmassy, yet still evoke the stark contrasting elements of winter. You can feel the crisp chill in the air, glistening icicles, and sparkling white snow, countered with warm crackling fires and cosy blankets, spicy gingerbread, and soothing golden candlelight. At Twiggage & Bloom, seasonality is what we are all about! Although we may not have anything actively growing on our micro flower farm in winter, we do our best to source locally for fresh blooms and otherwise embracing what the season offers.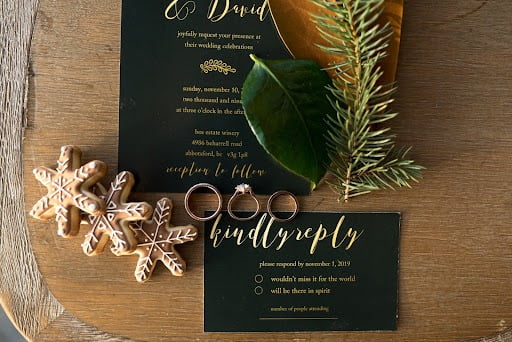 Embracing winter in your wedding flowers
Embracing winter often means more twiggage! We love the dark evergreens, not just pine but other hardy leaves (like boxwood, skimmia, and sweetbox), moss, and ferns. And let's not ignore the red and pink twigs, pussy willows, and wispy scotch broom. Unconventional, yet fun to use are the leaves that look like flowers, such as white poinsettias and ornamental cabbages.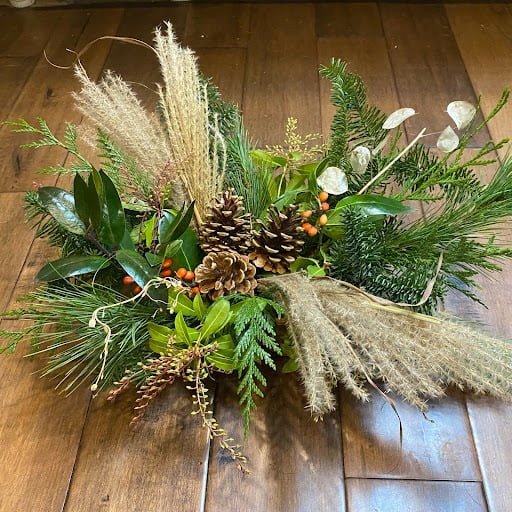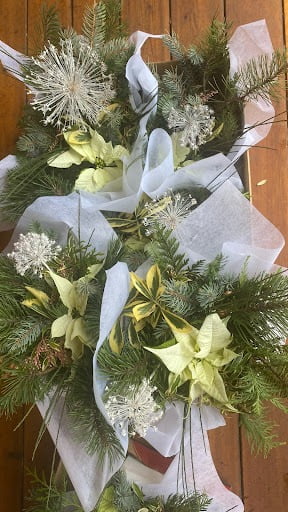 What focal blooms are available for winter weddings?
For blooms, we love a conservative use of white or blush roses, lilies, or jaw-dropping amaryllis. Locally sourced greenhouse-grown mums (try green, white, or bronze), and white snaps, lisianthus, and stock (Matthiola) are also usually available. You may associate tulips with spring, but they are actually cultivated nine months of the year! Tucked in amongst the nodding white bells of Pieris, and the delicate blooms of Narcissus Paperwhites and Hellebores, and you are many romantic miles away from Christmassy.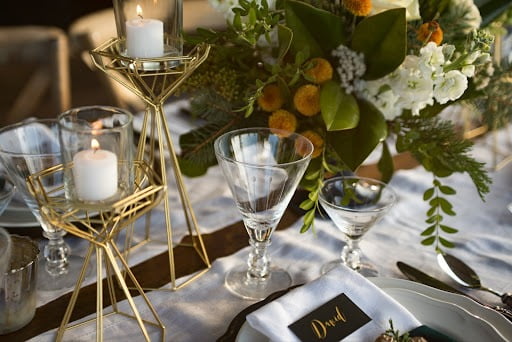 Winter weddings are all about the details
At Twiggage and Bloom, we love incorporating nature's bling – finally we can use the lovely pinecones! Or for a boho winter theme, how about tucking in some feathery grasses, bunny tails, or sun-bleached cress? We also love digging into our dried flower stash for a sprinkling of strawflowers, statice, and seed pods. How about those sculptural seed heads of Allium christophii (Star of Persia) or the luminescent pods of Lunaria? And berries, not classic red holly, but rather how about pink or white snowberry?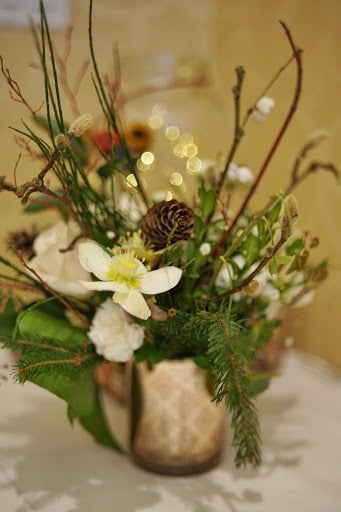 Seasonal and sustainable
For your winter wedding, we love to create floral fabulousness that speaks of place and time. For us, this means not flying in blooms from across the globe (where there really is a different season) and treading gently on the planet by using what's available here and now.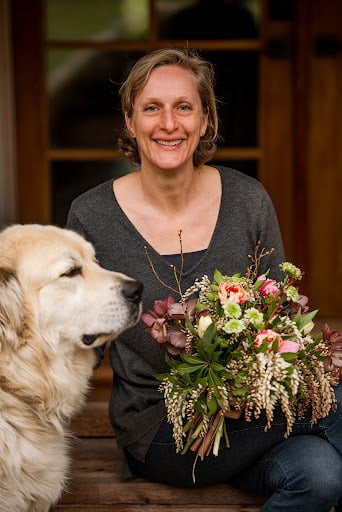 Flowers available in winter:
Anemone, Amaryllis, Chrysanthemums,
Freesia, Hellebore, Holly, Lilies, Lisianthus,
Matthiola-Stocks, Narcissus-Paper Whites,
Nerine, Orchids, Pieris, Pussy Willow,
Ranunculus, Roses, Skimmia, Tulips,
various winter twiggage with berries &
pods, winter greens.
Foliage accents available in winter: 
Various twiggage including fresh and dried, with
seasonal buds (like Pussy Willows) & blossoms,
foliage (acid green to burgundy and everything in
between), berries & hips, seed heads & pods,
evergreens, plus ferns & mosses.
To book your 2023 wedding with us, enquire here.
Not getting married, but need flowers for your celebration, gala, or event? Enquire here.
Need a staff wellness workshop, Gal's Night out, or baby shower activity? Enquire here.