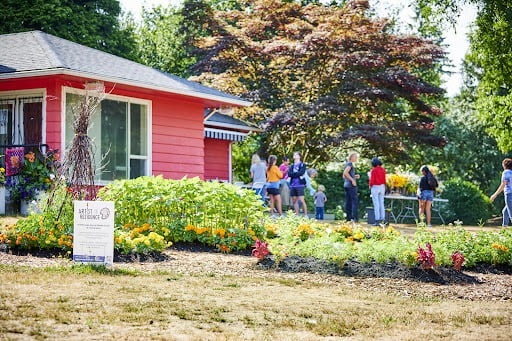 Sharing the Joy of Flowers: Reflections on my Artist Residency with the City of Abbotsford
So far in my chosen work, sharing the joy of flowers has got to be one of my most rewarding experiences. This past summer I had the fabulous opportunity to be the Artist in Residence for the city of Abbotsford. As serendipity would have it, their focus for this term was the combined disciplines of horticulture and art. The project could have transpired in a number of ways, but it was an easy decision to have a pop-up studio and demonstration garden at the Kariton Art Gallery. The gallery is a beacon of a cheerful hot pink, a little cottage (no, I didn't actually live there) in the middle of Mill Lake Park. The timing was perfect to create an 8-bed demonstration cutting garden, accessible to all who visited the park. All I needed to do was wave my magic wand and point to where it should all grow. City staff built the beds and pathways, and volunteers came out to assist with watering and weeding.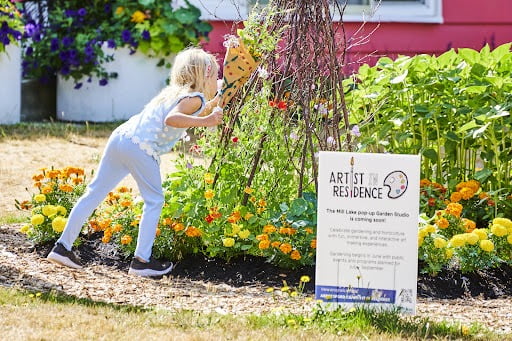 Workshops & Installations
Each step of the flower journey became a subject of the weekly workshops, free to participants: planting, arranging, crafts, and collaborative installations. I attempted to design the workshops to be accessible to all ages and abilities and was pleasantly surprised about the enthusiasm that touches all. Like insects to nectar, people flocked to the workshops to: tuck in seeds, smell, photograph, arrange, create, admire, explore, and share the magic of flowers.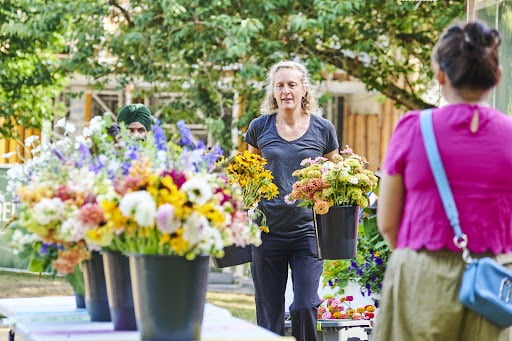 Demonstration Cutting Garden
As the garden grew (the number of participants increased as well), perfectly timed to provide weary moms something to do with kiddos during the summer. As a home based floral artist, with my own cutting garden, I was able to bring in supplemental cut flowers for projects. It was super easy and echoed what was blooming in the demonstration garden. We handed out seed packets, donated by West Coast Seeds, to encourage the timid grower.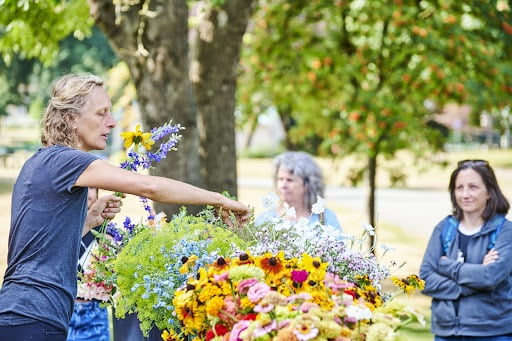 Poetry & Posies
Most popular by far were the basic bouquet making workshops, with abundant buckets of blooms to choose from and a simple, successful recipe to follow. We then added a poetic spin and offered a 'Posy and Poetry' workshop where participants created small bouquets (posy) and a matching poem with our curated buckets of blooms and corresponding verses. This was crafted with a nod to the Victorian trend of sending secret messages in a fistful of blooms. It was so neat to see the myriad of bouquets and poems, each one so unique and personal, from the same core selection of 20 varieties of flowers. It has all been documented, lasting long after the flowers have faded, in a digital exhibition on the Abbotsford Arts Council website.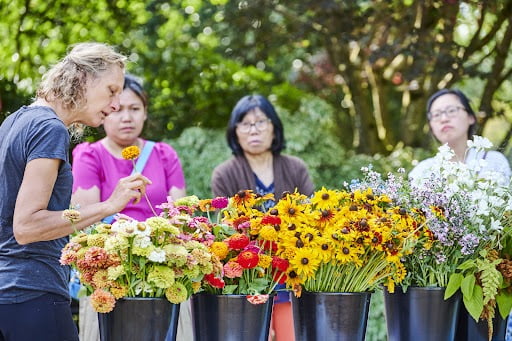 Truth & Reconciliation
I finished up the season providing a 'Lunch & Learn' at city hall to 30 enthusiastic staff. Not one participant brought their lunch, but all left with gorgeous bouquets! And, as the flower season drew to a close, I participated in the local Truth and Reconciliation civic event, curating an interactive floral tribute. Designed to be barrier-free, and participatory, we built a beautiful 'flower wall'. With each individual adding one bloom at a time (sunflowers, marigolds, and dahlias), we created a gorgeous floral tapestry. It was a vivid way to commemorate the event.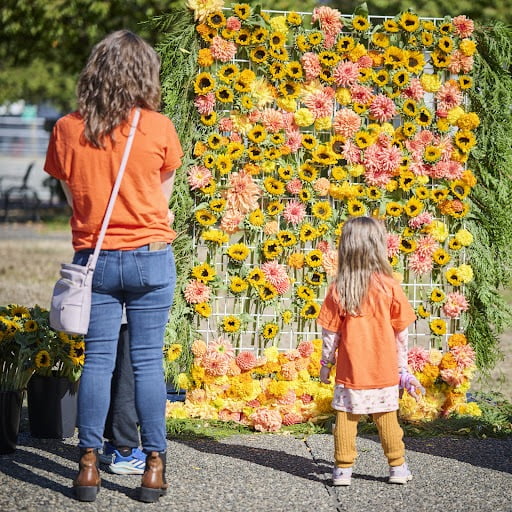 Goal Achieved!
I'm thrilled to have reached my goal:
"My main objective is to ignite the spark in the residents (of all ages, with a focus on young families… especially curious children and those who do not have access to land.) of Abbotsford to experience joy, wonder, and knowledge of all things flower related: growing, playing, and sharing. This is best accomplished by hands-on, experiential learning; engaging all the senses. This is not intended as a Master Gardeners' Club or Nouveau Design Class, but rather a barrier-free, family-friendly, immersive opportunity to discover nature in general, but primarily flowers."