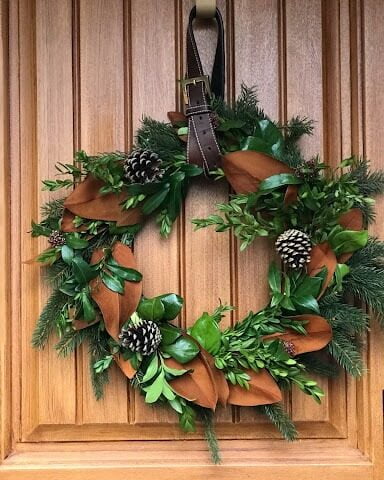 How to Make a Winter Wreath
Get in the holiday spirit! Here's our expert tips on how to make your own winter holiday wreath.
Winter Wreath Supplies:
1 x 14" wreath wire frame
1 paddle wire
5 branches of various evergreens: cedar, pine, fir, spruce, laurel, boxwood, variegated shrubs such as pieris or euonymus
5 assorted 'twiggage', berries, pinecones, moss, embellishments
1 pair garden snips
Sap remover: 'Gojo', cooking oil & salt, or hand sanitizer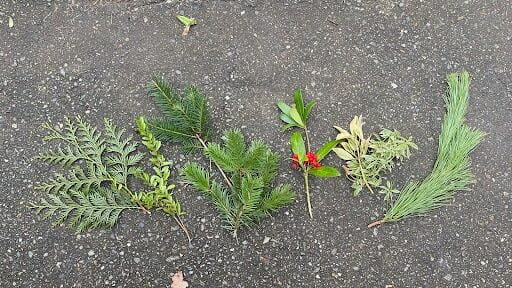 How to assemble your winter wreath:
1. Prepared 14 pieces of paddle wire to make 'twist ties'.
2. Trim down your branches to twigs about the size of your hand.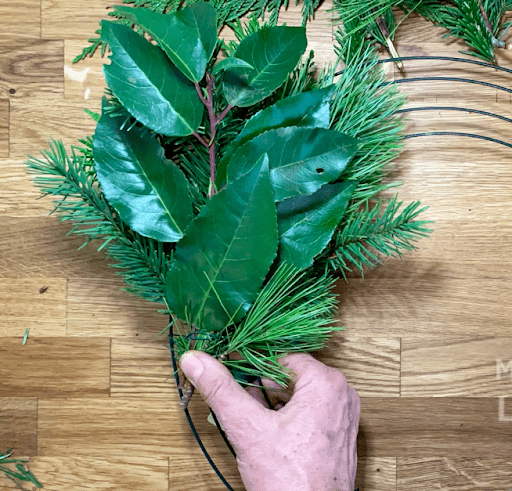 3. Use a mix of 5 evergreen twigs to make a bundle.
Sample: 1 stem of each: cedar, pine, fir, laurel, & boxwood
4. Repeat, making 14 bundles in total (if your frame is larger, make enough bundles = to total inches of diameter).
5. Tie the bundles using paddlewire 'twist ties'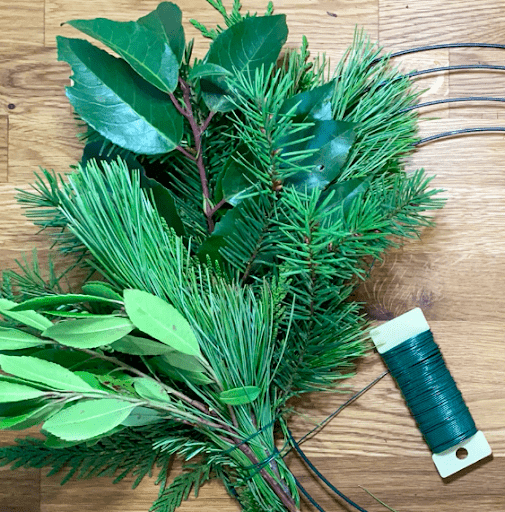 6. Tie the paddle wire spool securely onto the wire frame.
7. Attach the first bundle to the wire frame by wrapping the paddle wire 2 times around the base of the bundle. Leave the paddle wire attached in preparation for the next bundle.
8. Attach the next bundle by overlapping the first bundle, again wrapping the paddle wire two times. Leave the paddle wire attached in preparation for the next bundle.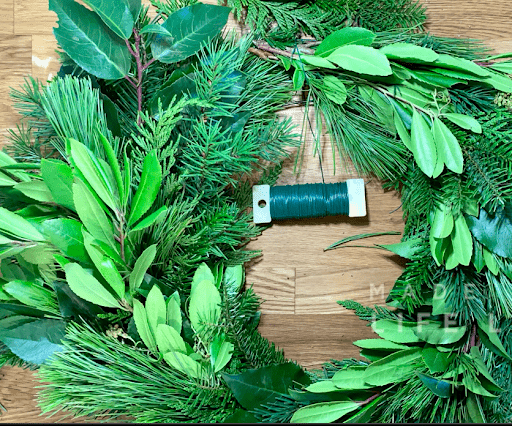 9. Repeat with remaining bundles, tie off the paddle wire.
10. Tuck in your embellishments: twiggage, berries, or pinecones.
11. Attach a ribbon (or, our favourite, a leather belt!)
12. Hang on your door: this wreath should last the season in the cool outdoors, but may begin to defoliate if hung indoors.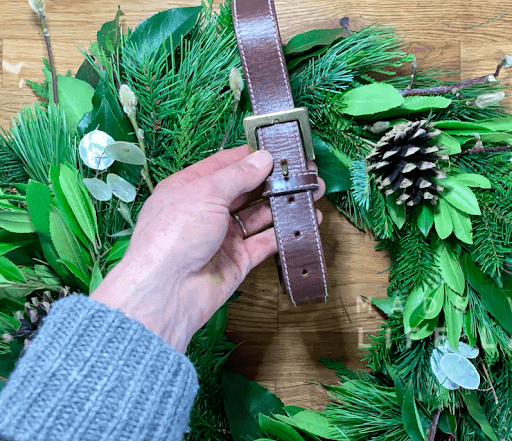 Handy Wreath Tip:
Having some of these fragrant evergreens unfortunately also means sticky tree sap! Make sure to protect any valuable surfaces and if your hands are sticky afterwards, we recommend sap remover. Try 'Gojo', or a home remedy of cooking oil & salt, or hand sanitizer.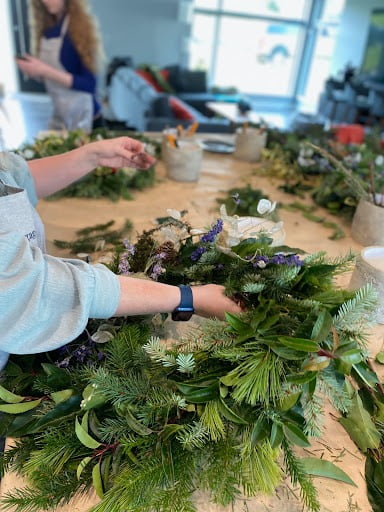 Want some extra help (and some tasty goodies) making your winter wreath?
If this all sounds like a fabulous creative time, try one of our popular wreath-making workshops. We curate all the supplies, beautiful greenery and embellishments, tools (and 'Gojo' for sticky fingers!) while you create and enjoy our famous hot apple cider, home-baked goodies (gluten-free options available), while listening to tunes and chatting with your pals…and leave the cleaning up to us!
Prefer to book a private workshop gathering?
If you're looking for a nice option for a staff party or girls night out, contact us to book your private workshop at your place (no carpet floors) or here at the farm with us.