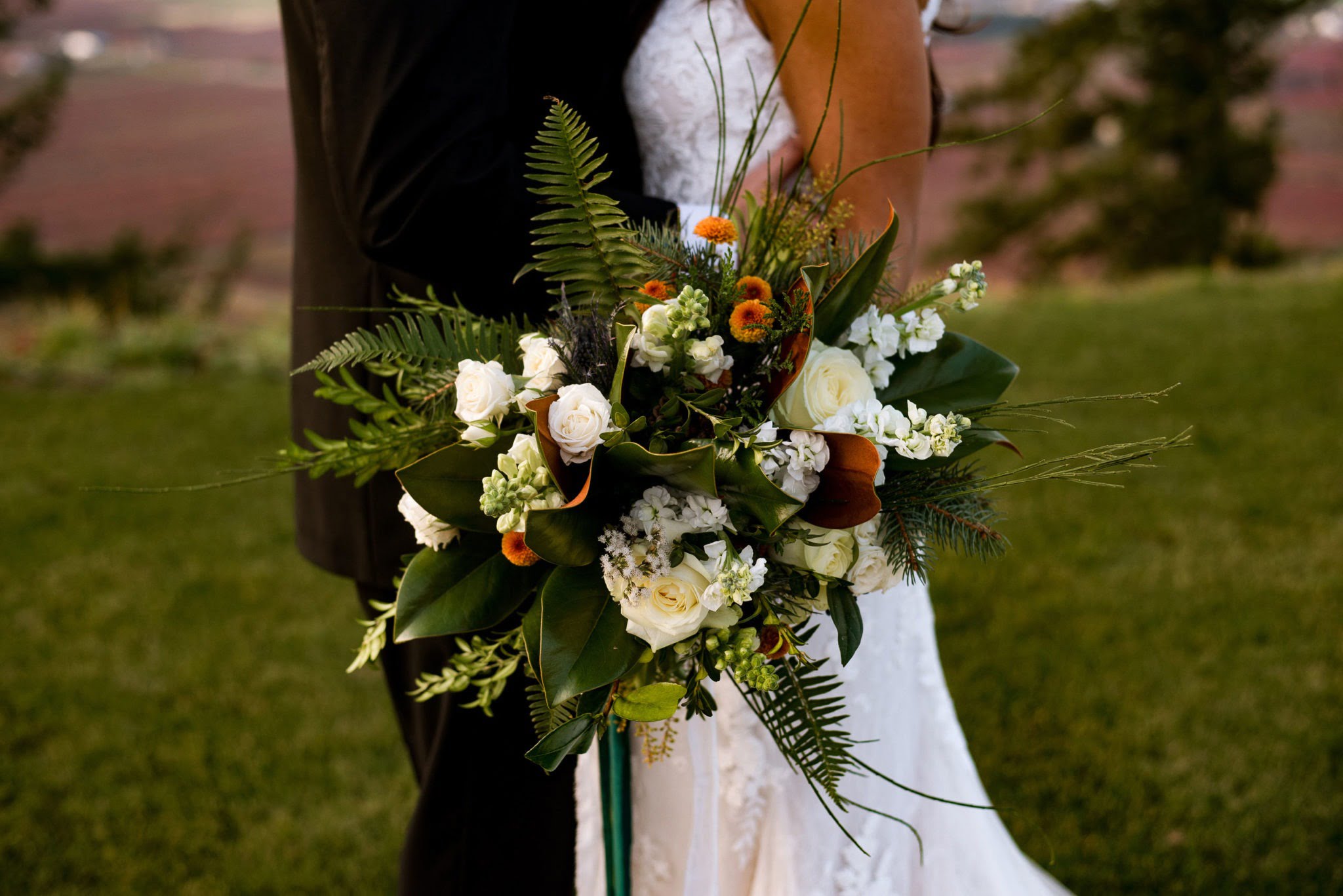 How much should you spend on wedding flowers?
Here at Twiggage and Bloom, we love growing flowers for couples celebrating their weddings here in the Fraser Valley and Greater Vancouver area. When planning a wedding, sometimes it's hard to know where to start. So to make it a little simpler, we have outlined several sample budgets to give you some ideas of what is possible for your special day.
Floral budget comparisons
The rule of thumb is to budget 10 to 15% of your entire wedding budget for flowers. There is, however, a huge amount of wiggle room in this budget. For example, if your venue is naturally beautiful then you can focus more on your personal flowers where it counts. On the other hand, if your big dream is to bring the magic of nature into your space then you may need to budget 20 to 25% of your wedding budget on florals.
All our floral creations pass through the hands of our lead designer, Lexi Richards, and reflect our signature aesthetic: elegant European charm fused with a whimsical West Coast vibe.
A la carte options
These investments reflect florals for your special day, delivery not included. Simply select from our curated menu, and your wedding flowers are one thing you can check off your list.
$1500 – $2000
If you have a small intimate bridal party and 50 guests or less, with this amount you can decorate your tables with a pop of colour and splurge on a couple of focal arrangements for your ceremony.
Or if you have a small bridal party and 100 guests, this amount will be enough for your personals and also to decorate all your reception tables.
Additional options in the à la carte category include all those special touches that will make your day unique. Consider wearing something floral: a flower crown, hairpiece, or floral ornamented jewellery. You may wish to decorate the aisle with bunches of blooms, adorn the tables with garlands of greenery or add some bling to your cake with edible blooms.
Full Service options
$3000-$3500
At this price couples can know that we take care of their personals and their event flowers for their special day. This includes a consultation, the rental of the vessels and set up and take down of the arrangements. We ensure that our florals add grace your space, and you don't need to lift a finger.
If the bridal party is small and an intimate group of 50 guests, couples can be assured that their personal florals, reception pieces, and also a spectacular installation such as an arch is possible.
Another scenario would be a larger bridal party and 100 guests and couples can be confident in knowing that all their personal florals and all the centrepieces for the reception would be set up and taken down.
$4000-$6000
Here is an example for couples who have a large bridal party and 100 guests, and want to invest in some spectacular installations such as arches, arbours, mandalas, and floral chandeliers. Another variation of this would be an average bridal party, double the guest count and still have that wow factor of a custom built installation.
Additional options in the full service category include all those special touches that will make your day so unique: consider wearing something floral: a crown, hairpiece, or wearable (jewellery). You may wish to have the aisles decorated with bunches of blooms, the tables adorned with garlands of greenery, or your cake embellished with some edible blooms.
$6000 and up
The sky is the limit for couples who enjoy flowers on their special day. We believe that every couple is unique and has their own story to tell and we are thrilled and honoured to cultivate beauty to grace their space for this occasion.