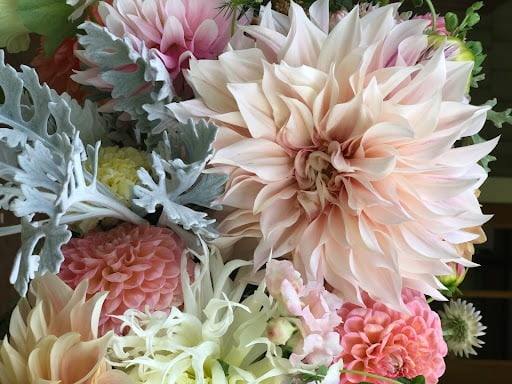 Finding the Best Wedding Flowers
The current heat wave has me retreating indoors, and hitting the books to find the newest and prettiest flowers to grow for 2023. Similar to the fashion industry, as a florist and farmer, I have one foot in the present world and one in the future. As I am tending to this year's crops, customers, wedding and event clients, I am also planning for next year and beyond.

Planning ahead for seasonal beauty
Some flowers, such as the annuals, are planted every year and I can select specific colours and varieties each year. Others, such as the biennials, take a year or more to bloom. Yet others, such as the perennials (peonies & roses, for example) take up to five years to mature.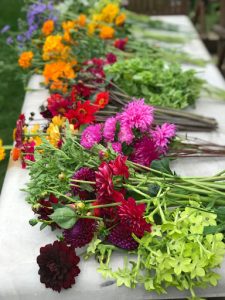 Taking notes
There's no time like the present to observe, take notes, research, and place orders. This may look like strolling through the cutting garden to see what is blooming, trying new combinations, testing, finding gaps (in colour or production), consolidating my notes (phone, notebook, back of my hand), and whipping up Excel spreadsheets to keep it all sorted.
I also find inspiration from my peers and creatives (art, food, fashion, etc.) around me, especially in the Instagram realm.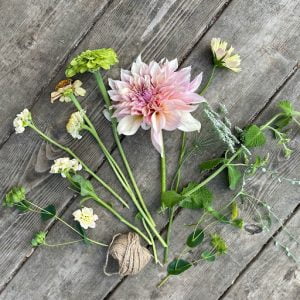 Finding the best performers
First comes the painful task of culling crops that just don't 'cut it' (pun intended!) My selection process is rigorous, but ultimately our company ethos remains at the foundation which is: we produce floral beauty that does not create harm to me or my family & farm, to our planet, or to you, our valued clients.

Propagating old favourites and star performers
Next up, is sourcing and propagating more of what we'd like to grow. What I get excited about the most is finding new cultivars, varieties, and colours. Especially the new varieties that are achingly beautiful, ombré shades that look like they have been touched by fairy paint brushes! With my spring bulb order already submitted, I'm now scouring catalogues and resources for those romantic seed-sown annual varieties with evocative names with 'blushing', 'butterscotch', 'champagne', 'feather', 'bride', 'Earl Grey', and 'vintage'. 

How to choose your flowers  
With all these beautiful varieties, you might wonder how you'll choose! But at Twiggage & Bloom we keep that super simple.
Choose your colour palette:

muted pastels (soft & delicate); jewel tones (bright & cheery); berries & burgundy (rich & moody); or field & forest (greens & texture).

Choose your design style:

modern/eclectic; rustic/valley; romantic/classic; or woodlands/wildflowers.

Choose your arrangements – from hand-tied bridal bouquets, statement pieces, tabletop designs, corsages & boutonnières, to floral arches and full blown wall installations, we've got you covered.
By selecting from our colour palettes and design styles, we get a sense of your personal style and can choose the freshest and best blooms available, ensuring you get an abundance of gorgeous and unique seasonal flowers for that natural garden-inspired look.

How to book with Twiggage & Bloom
For booking your wedding flowers, fill out our simple enquiry form.
For event flowers & custom orders, fill out this brief contact form.
For group or 1:1 workshops, garden design consultations, and all other enquiries: contact us here.